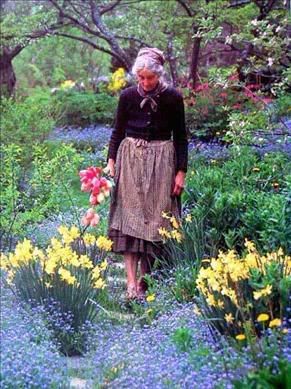 Gillian's blog, Reflections in the Afternoon, reminded me a few days ago that Tasha Tudor's birthday was today! There has been a concerted online effort to pay special tribute to Tasha's birthday this year, which seems to have been led by the delightful Story Book Woods .
Tasha Tudor is one of my favourite illustrators of all time, and I was saddened when I heard back in June that she'd passed away. She was an incredibly prolific artist, with a body of work covering more than half a century. Tudor received her first Caldecott Honor for Mother Goose in 1945, and her last book, Corgiville Christmas, was published in 2003.
Tudor was born in 1915, but the era she aspired to was one even earlier–the 1820s. I think it would be inappropriate to say that she was nostalgic for an earlier era. Webster defines nostalgia as "wistful or excessively sentimental yearning for return to or of some past period or irrecoverable condition." But Tasha Tudor did not just yearn for the past, she painstakenly recreated a world that reflected the best of the time period she loved so much. She reminded readers about the beautiful customs of the past and helped keep them alive through classics like A Time to Keep, which celebrated family holiday traditions. I think many of my family's most treasured holiday "traditions" were borrowed from this fabulous book.
For more information on Tasha Tudor, or to purchase her lovely books, I recommend a visit to Tasha Tudor and Family. The site, which is run by Tasha's family, is a treasure trove of her lovely work. You can even by some of her original sketches and paintings here! Alas, I'm usually reduced to window shopping, but it's a fabulous, regularly updated site with information on upcoming events in the New England area.