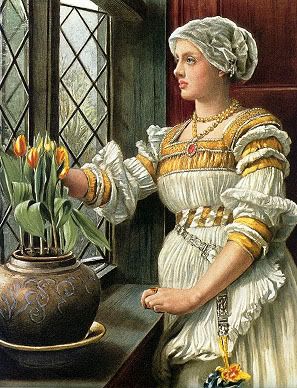 Valentine Cameron Prinsep's 1888 painting of Mariana borrows much from Millais' version. Both paintings feature Mariana gazing out the window of her "moated grange." Prinseps' version is decidedly cheerier, and unlike Millais' autumnal painting featuring a backdrop of dying leaves, Prinseps' is set in spring, with tulips in abundance. The painting was originally exhibited in 1888 as part of a collection of twenty-one paintings entitled "Shakespeare's Heroines."
Valentine Cameron Prinsep is a lesser-known painter of the Pre-Raphaelite school, but his connections are fairly impressive! He was born in Calcutta, India in 1838, into a rather well-known family. His aunt was the pre-eminent photographer Julia Margaret Cameron, grandmother of Virginia Woolf (do you ever get the feeling that every person you read about is somehow related?). Valentine was good friends with Millais, Rossetti, and Burne-Jones, and his artwork definitely shows his friends' influence. During his life he wrote several books and plays, but he is best remembered for his artwork.
Source consulted: Shakespeare Online (The English Department at Emory University is responsible for this great resource–I highly recommend it!).