It's fascinating how perceptions of art change over time.
As you may recall, the Pre-Raphaelites were so named because they rejected the Royal Academy's unquestioning devotion to Raphael's style of painting. There is still some question as to whether the Pre-Raphaelites were primarily focused on rejecting Raphael himself (less likely), or whether they merely disdained the Academy's insistence that they ape the Rapahel-like style of painting. Either way, the Pre-Raphaelite Brotherhood rejected slavish devotion to the artistic heroes of the past, and Raphael was one of the most obvious targets.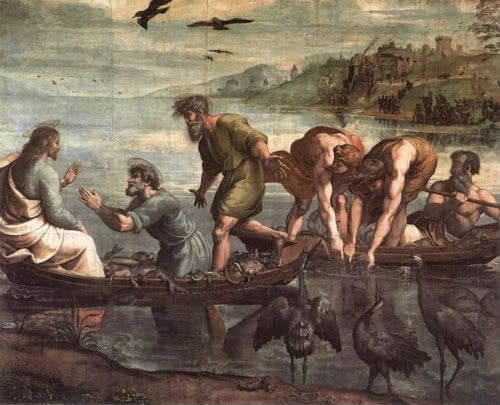 The Miraculous Draught of Fishes, 1515 is a perfect example of what irked the Pre-Raphaelites about Raphael. It is unquestionably a lovely work, but also seems a tad insincere. The subjects are posed in an unnatural way, and their grand gestures seem a bit overwrought, though you have to love the fellow on the far right who seems determined to show off his abs and bulging triceps. But on the other hand, Raphael's work was also dignified, beautiful and graceful, which is doubtless why the Academy used him as a standard example for their students.
Of course, it's ironic that one of the chief contemporary criticisms of the Pre-Raphaelites is that their work is chocolate-boxy and picture-perfect (the shoe is on the other foot now, eh?). I'm sure most members of the PRB would be stunned that their work, once so controversial, is now decried as downright twee (in the future will we look back on the work of the Young British Artists and think of their work as cute? That's a scary thought…).
Stimulating…or saccharine?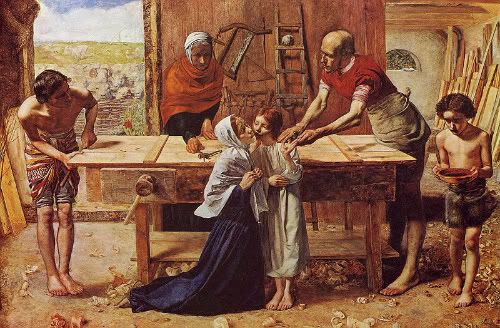 Over time, I have grown to appreciate (and often prefer) contemporary art, and although I still enjoy the work of the Pre-Raphaelites, I probably wouldn't display it in my home. From my perspective, the work of the PRB is an important part of art history that was very influential for generations of artists (whether they want to admit to it or not), and I love to study it. But I wouldn't like to see artists today imitating the style of the PRB or – for that matter – the style of any other artists or historical period.
What do you think? Would you like to see the artistic style from one of your favourite historical periods come back in fashion? Or do you prefer to keep the past in the past?