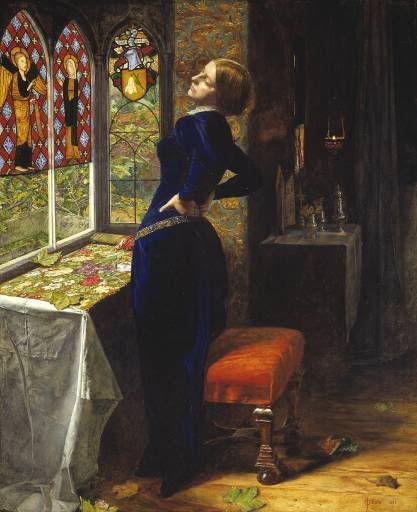 For myself, one of the most enduring appeals of Pre-Raphaelite art is its strong relationship to romantic literature. Millais' 1851 work, Mariana, is a great example of this. The painting is based on a poem of the same title by Tennyson that in turn was inspired by Shakespeare's play, Measure for Measure. In Measure for Measure, the character Mariana is abandoned by her fiance, Angelo, when her dowry is lost in a shipwreck.
Millais' illustration of Mariana at the window reminds me of other stories, such as that of Penelope. Like Penelope, Mariana is engaged in needlework. Autumn leaves have blown in through the window and are scattered about the room–on the floor as well as on her needlework project, which the gallery description at the Tate suggests represents "the burden of her yearning as time passes." She is staring at a stained-glass image of the annunciation, which according to Tim Barringer was seen "as a quasi-sexual event" for both Millais and Rossetti in their paintings (42-43). There definitely is an undercurrent of frustration and longing in the painting.
Millais originally exhibited the painting along with several lines from Alfred Lord Tennyson's poem, Mariana:

She only said, 'My life is dreary,
He cometh not,' she said;
She said, 'I am aweary, aweary,
I would that I were dead!'
Tomorrow: another Pre-Raphaelite vision of Mariana.
image courtesy Tate Gallery
Source consulted: Tim Barringer. The Pre-Raphaelites. London: Everyman Art Library, 1998