"Who would have thought that the telephone would bring back drawing?" – David Hockney, via Bloomberg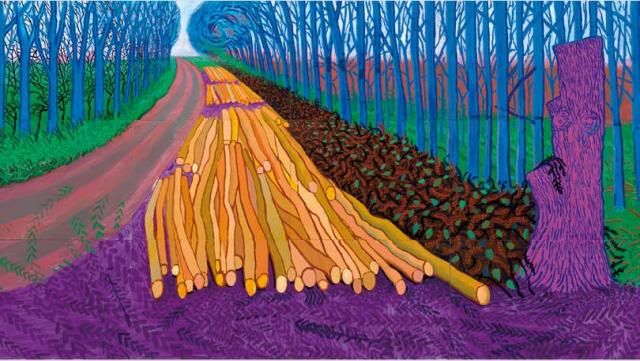 The art world has been a-flutter over the past several days with a (largely) manufactured battle between two of its stars: David Hockney and Damien Hirst. Hockney mania, the Telegraph reports, has overloaded the Royal Academy website, leaving servers crashing in its wake. Meanwhile, Hirsts "retrospective" of his infamous spot paintings (you know, the ones he didn't actually paint?) has barely registered, except as something for art critics to mock gleefully.
It could be that gallery goers have finally recognized that Hirst is a bit of a one-trick pony. Admittedly, it was a sort of interesting trick – at the beginning. I must admit to snickering over his "The Impossibility of Death in the Mind of Someone Living" (you know, the shark preserved in formaldehyde? I laughed even harder when it rotted and the hedge fund manager that bought it had to get Hirst to make him a new one!). The whole episode exuded the sort of impish tomfoolery that allowed the YBAs (Young British Artists) to steal the scene in the 90s. But its gotten a bit old.
On to Hockney then: the popularity of his latest exhibit is refreshing for several reasons. First, it suggests the public can only be entertained for so long by having a middle finger extended in their general direction. Second, it indicates that there is a real and abiding appetite for beautiful, relevant, art.
Hockney's exhibit, entitled 'A Bigger Picture' opens today and will run until April 9th, 2012 at the Royal Academy of Arts in London. It features a number of new artworks created using Hockney's iPad and iPhone (follow the link to see more, including a video). As far as I'm aware, Hockney is the best-known  artist to dedicate a significant portion of a new exhibit to works created using the iPad. Of course, artists have been using the iPad and iPhone to create beautiful work since the devices were first released, but the popularity of the Hockney story seems to indicate that there is deeper change afoot.
The bright colours of his new pieces are eye catching and invigorating, and they give the impression that they are somehow backlit. In Hockney's interview with Bloomberg, he dwells briefly on the fact that the iPad's lighting has influenced his work, saying "[t]he fact that it's illuminated makes you choose luminous subjects, or at least I did: the sunrise, for example, and flower vases with water in them that catch reflections." The article also touches on the fact that the using his phone or tablet has made his work much easier, simply because it is more accessible: "I realized when I was doing the sunrises last year that it was partly because the iPhone was beside my bed when I woke up…if I'd only had a pencil and paper there I probably wouldn't have chosen to make pictures of the dawn." Finally, because the iPad records the movements of his finger across the device, viewers can be brought one step closer to the creative process through videos of the works being made.
 Viewers who are able to experience these works in person at the Royal Academy of Arts in London will see them printed on paper. The paper medium still translates the luminous quality of the paintings, but paradoxically, if you only get a chance to see them on your computer, smartphone or tablet, you will have greater proximity to the artist's process. It's strangely like being able to hold an original Van Gogh in your hands. This was exploited to great effect when Hockney's Fresh Flowers exhibit was on display at the Royal Ontario Museum a few months back, where you could sign up to have an "original" piece of artwork he had created on the iPhone emailed to you every few weeks.
There has been a degree of sterility and self-reflexivity about contemporary art that has left the public feeling excluded from artistic discourse. Hockney's exhibit is an exciting opportunity for people to experience art in a fresh new way that resonates with audiences. And if you're interested, you can buy the Brushes app Hockney used to create his masterpieces from the App Store for $7.99 (at this juncture, I feel compelled to note that anyone who is convinced that the cost of the app –plus an iPad or iPhone–is too high, has never had to buy art supplies!).